Raad Buys Houses, a standout local 'We Buy Houses' company in St. Louis County, isn't just about business. Behind this family-oriented investor showcases a father, entrepreneur, and proud St. Louis resident who embraces the city's true core values.

In the heart of St. Louis County, Raad Qumsieh, the visionary behind Raad Buys Houses, lives the family values he speaks through his business. As a father, he understands the importance of quality time and creating lasting memories with loved ones and how a newly remodeled home can provide that for other families.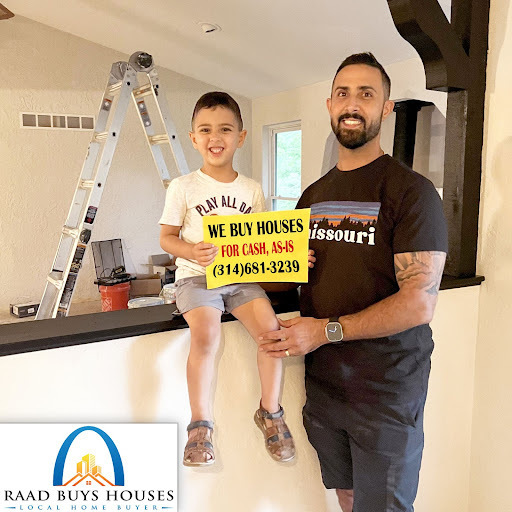 "St. Louis County offers a treasure trove of family experiences," Raad Qumsieh shares. "These are not just attractions; they are opportunities for families to bond, learn, and grow together."
Raad Qumsieh's commitment to St. Louis County extends beyond real estate; it's about fostering a vibrant community. "Through Raad Buys Houses, we're not just investing in real estate; we're investing in the dreams and aspirations of local families," he concludes. "It's about creating positive ripple effects that extend far beyond transactions."
In the heart of St. Louis County, the compassionate ethos you'll find on Raad Buys House's YouTube Channel, finds resonance in the true story of local homeowner Rebecca Moore. Inheriting her parents' cherished yet snug home, Rebecca faced a dilemma as her family grew. Seeking counsel, she turned to Raad Buys Houses, where empathy and understanding were pivotal.

Read more on Raad Buys Houses Facebook Page.
Beyond the scope of a simple sale, Rebecca's journey symbolized the preservation of memories and funding for a new beginning. Raad Qumsieh, the founder, not only provided a solution but a compassionate guiding hand. Recognizing Rebecca's inheritance complexities, Raad Buys Houses offered insights into probate paperwork, an intricate process they simplified. This practical assistance empowered Rebecca's decision-making and alleviated her concerns.
With Raad's guidance, as seen on youtube, Rebecca navigated complexity, making an informed choice to sell her house for cash. What seemed daunting transformed into an expedited, personal home-selling experience. Raad Buys Houses not only reshaped that property but also the sellers' lives, solidifying their pledge to St. Louis County's families, their homes, and cherished memories.
Raad Buys Houses is here to help people in St. Louis County who have different problems with selling their homes for cash. If you're having trouble with things like not being able to pay for your mortgage anymore, are in foreclosure, going through a tough divorce, or dealing with other difficult situations like fixing up your home or even if a home got damaged by fire, Raad Buys Houses wants to help. They are kind and want to make things easier for you. They can quickly close escrow, offer cash, and even pay all closings costs or fees associated with selling your home fast. Raad Buys Houses is like a helpful friend who cares about you and your community in St. Louis County.
###
Media Contacts:
Raad Buys Houses™
105 N Main St Ste 105, St Charles, MO 63301
Phone: +1(314)681-3239
URL: https://raadbuyshouses.com/
Email: Rqhomebuyers@gmail.com
Additional Resources
https://www.youtube.com/shorts/oGLlT7rGq3s
Source: 38 Digital Market News
Release ID: 721791
Source published by Submit Press Release >> We Buy Houses Company Raad Buys Houses is Transforming Homes and Lives in St. Louis County